Hi I am trying to split one box of 100 prizes,please help me to get some spare sets.
I will order 100/box if most of the B-E figure sets are taken!
Ani Kuji is kuji by Animate Japan that sells in Japan only!
And you can hardly find preorder of those Kuji prizes on normal shop!
Pre-order and buy them at cheaper price! :D
Price do not include any shipping.
Total price=Base price below + International shipping shared + Shipping to you.
USD is for reference,I will send invoice in SGD.(1 USD=1.25SGD)
More about the price,here are two plans.
1.Order through Animate physical shop via proxy. Deposit(30%~50%) is required,proxy fee is included in the base price listed below.(Shipping can be choose,SAL or EMS)
2.Order through Animate online via forward service.FULL PAYMENT or 80%-90% required.
Base price will be cheaper around 10% or more,but most likely international shipping will be EMS only.
Currently it
'
s plan 1,if there are enough takers and most of the users are able to pay full/80%-90% on time,can change to plan 2. Sorry I can not afford the full payment by myself.OTZ
Bundled options can be exchanged from popular to unpopular items, price will be reduced accordingly.
Price may change accord to demand.(eg,+1USD for popular,-1USD for unpopular ones)
Price of figure set will be lower if more lower prizes(H-K) are taken.
Check the thread regularly for update.
I will provide you receipt if we manage ordering one box.
Each items have 3 or more available,please feel free to request a slot.
Prize A: Kurou & Yashiro Pillow:
Bigger picture
(bundled with J-1/J-2,K×
1 or K
×
2):1+2 set =30USD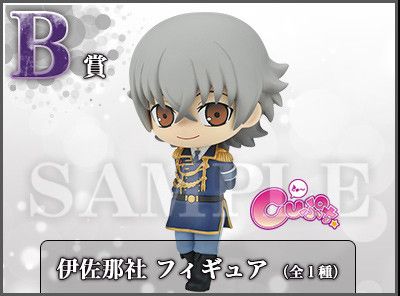 Prize B:Isana Yashiro Figure(10cm)
(bundled with J-1,K×
1):1+2 set= 30 USD
Prize C:Yatogami Kurou Figure(10cm)
(bundled with I-1,J-2,K×
1):1+3 set=37 USD
Prize D:Suoh Mikoto Figure(10cm)
(bundled with I-2,J-3,K×
1):1+3 set=37 USD
Prize E:Munakata Reishi Figure(10cm)
(bundled with I-2,J-4,K×
1):1+3 set=38 USD
Prize F:Yata Misaki Figure(10cm)
(bundled with I-3,*J-5,*K×
2):1+4 set=49 USD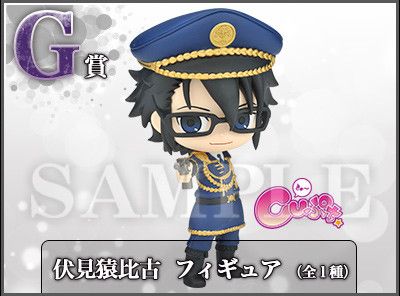 Prize G:Fushimi Saruhiko Figure(10cm)
(bundled with I-3,*J-6,*K×
2):1+4 set=49 USD

Prize H:B2 size poster(50cm×
70.7cm)
H-1(Mikoto,Tatara & Izumo) 7 USD
H-2(Fushimi & Misaki) 7.5 USD

Prize I:Grass
I-1(Kurou & Yashiro) 7 USD
I-2(Mikoto & Reishi) 7 USD
I-3(Fushimi & Misaki) 8 USD
Prize J:Metal Charm
J-1(Yashiro): 7 USD
J-2(Kurou): 8 USD
J-3(Mikoto): 8 USD
J-4(Reishi): 8 USD
J-5(Fushimi): 8.5 USD
J-6(Misaki): 8.5 USD
Prize K:Clear file(set of 2)
K-1(Band):7.5 USD
K-2(Mikoto & Reishi):7.5 USD
K-3(Fushimi & Misaki):7.5 USD
K-4(Alice):7.5 USD